New Blog, New Website, Same Fantastic Discounts on Designer Sofas and Furniture
This week at Worthington Brougham Furniture we're excited to announce the launch of our brand new website! For too long, our showroom in Lancashire has been the only way to get your hands on the best of our half price designer sofas and discounted furniture deals. Now, with the rebuild of WBFurniture.co.uk, you can browse and, more importantly, buy any of our beautiful furniture from anywhere in the UK.  For our local customers this means that you can see all of our newest stock on our website before the showroom opens for the weekend. For our customers further afield in places like Wakefield, Manchester, London and Edinburgh, you can order half price sofas, suites and furniture directly through our website for delivery to your address anywhere in the UK.
Discount Furniture - What's the Big Deal?
If this is your first time visiting our showroom or one of our online outlets you may be wondering what all the hype is about. There are, after all, many furniture shops out there both locally and nationally who claim to sell discounted furniture. What makes us so different?
Firstly, we're the real deal – a genuine, family-run, family-owned business full of people who genuinely care about giving you good customer service. Our furniture is likewise genuine, authentic, brand name furniture from the original manufacturers. We support ACID, the associate of copyright in design, and we don't stock anything in our showroom that we wouldn't be happy to have in our own homes. That means no cheap lookalikes or copies, just high quality furniture.
Our pursuit of 100% authenticity also extends to our discounts. Many companies offer a routine 25-30% so-called discount that is actually based on the "Manufacturer's Recommended Retail Price", MRRP or RRP. Amazing, isn't it, that all these independent stores can routinely offer the exact same discount all over the country? Our prices are set based on the sale price of the item on the high street, so when we say we're 30-75% less than the high street price we really do mean it. We're so confident that our prices are less than anyone else's that we offer a price beating guarantee, even if the other store is having a sale.
It's up to you to decide whether the furniture we have for sale is right for you. Most of what we sell is ex-display from our own showroom floor, but we also sell demonstration models from the furniture shows, prototypes and sample pieces, end of line, out of season and all kinds of other clearance stock. There are many advantages to buying our clearance furniture, beyond just the amazing price! Everything we have in stock is available for delivery within a few weeks max, so there's no waiting around for things to be specially made for you. And because your order isn't "bespoke" you have the option to return it if you find it doesn't suit your home. Many of the pieces we get are unique, one-off items, prototypes and samples pieces, so for the more design-minded of you this represents a great way to nab a one-of-a-kind designer piece without paying a one-of-a-kind price.
We don't offer customisation options and cannot order sofas in, so the downside is that you can only buy what we have in stock on any one week. With new sofas and suites coming in every week, rain or shine, this could mean waiting a few weeks before we have the right sofa for you. If you email [email protected] we can keep you updated and let you know when we have the sofa or suite you're looking for. We can't say exactly what will come in before it arrives at our showroom, but if you have a look at our pictures on Pinterest you can get a good idea of the sort of furniture we do get and see what we've had in the past. 
New Sofas and Suites From Famous British Brands
As usual we're not allowed to directly name the brands or manufacturers, as their full price stockists will complain! But if you were already looking for a new sofa or suite from one of these famous British brands, you'll probably recognise them for yourself, and if not you can always ask us.
This week sees an influx of high quality British brand leather sofas and suites like this, from a company that we call "famously comfortable".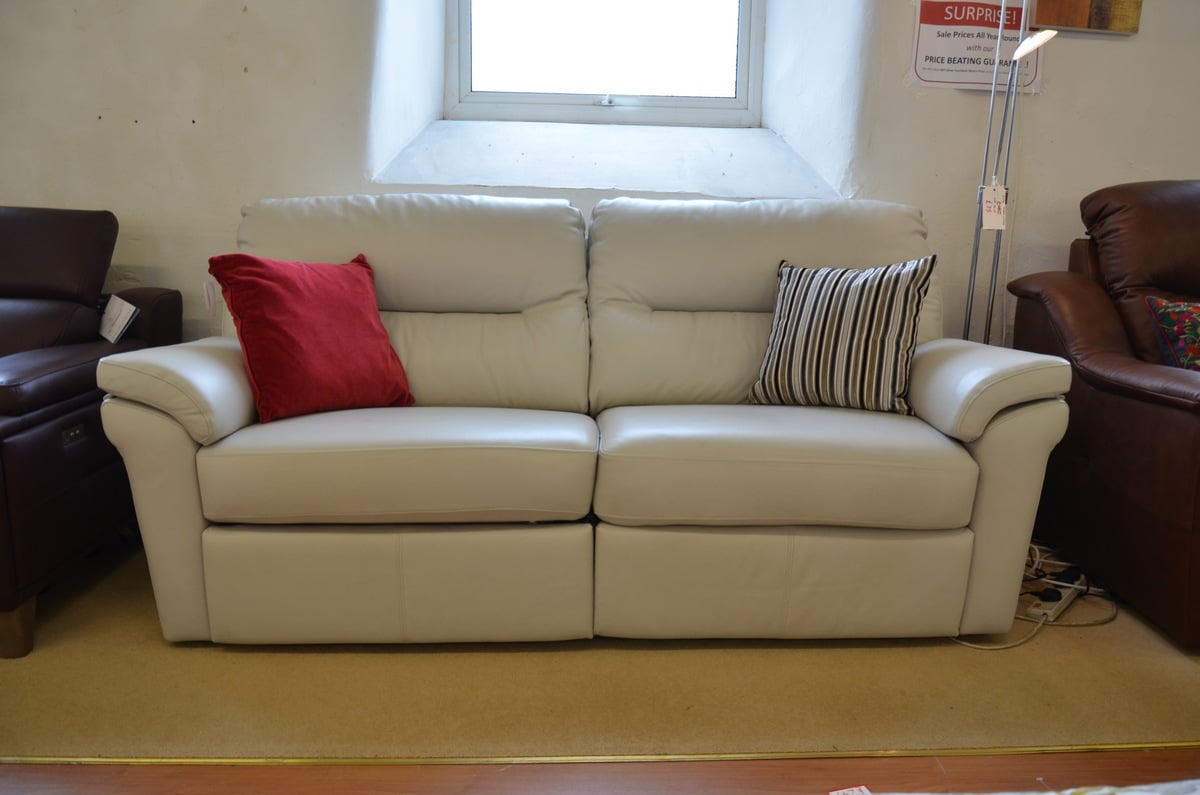 There's some very nice inexpensive leather corner suites and sofas from a popular store, which are very well made if a little more of a relaxed style.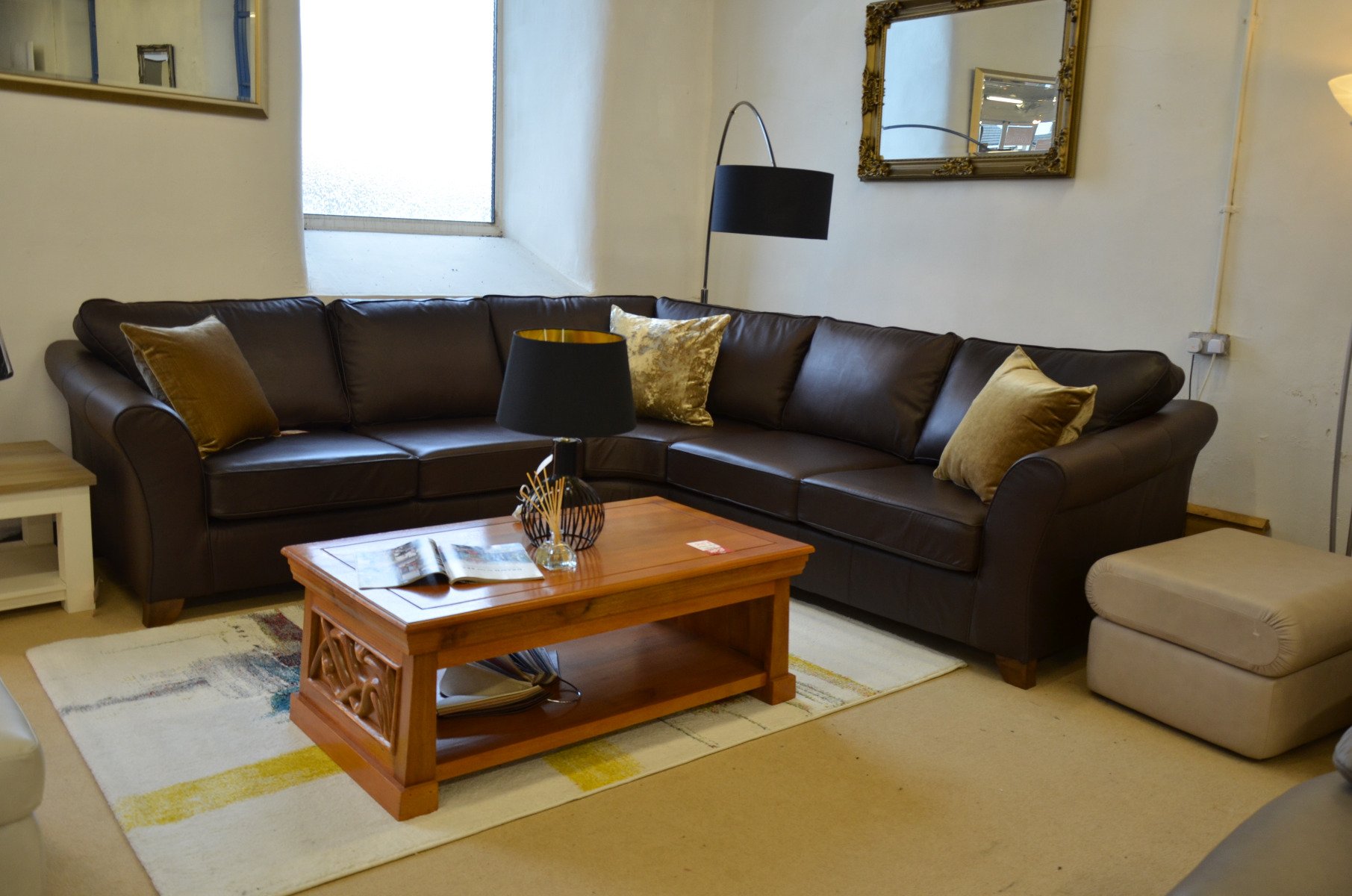 There's some beautiful fabric sofas from a rather prestigious British company that we call "British makers of fine furniture", which are due in stock this coming weekend.
And there's extra discounts on our beautiful Revival dining sets and solid wood beds from a famous British wood furniture brand.
Stay tuned for even more discounted designer furniture, behind-the-scenes details on the newest trends in furniture for 2019, competitions and more! We hope you'll enjoy reading our blog as much as we're enjoying writing it.