Parcel Deliveries
Any smaller products that can be transported through a parcel company will be delivered to any location in the UK mainland for free. This typically includes cushions, rugs, throws, textiles, small boxed side tables and footstools, and covers any part of the UK that doesn't involve a ferry. If you are located overseas, whether that's a small island off the coast of the UK or elsewhere in mainland Europe, please contact us before buying as there may be a small surcharge to cover the additional transport costs.
Getting Your Furniture Home
We only use reliable couriers that we have personally vetted, to ensure that your new furniture will arrive safely in the same excellent condition as it has left us. All the couriers we work with are fully insured and experienced in moving furniture. Once we've received your order we will wrap your furniture, put it into storage if necessary and contact the courier company to get your delivery booked in. You will receive notification from and/or the courier nearer to your delivery date.  If you don't live in Lancashire, don't worry - we deliver all over the UK! Most recently we've delivered top brand leather sofas to Wakefield and Manchester, cosy fabric sofas to Edinburgh, designer corner suites to Blackpool and several unique sample pieces to central London. Our prices are based on distance from our showroom and major road networks, please see the map and table below for details. Single furniture pieces like sideboards, coffee tables and similar items too big to be posted are priced the same as an armchair. These prices are per order rather than per item, so if you're putting together a large order your delivery charge will be no greater than that of a single suite.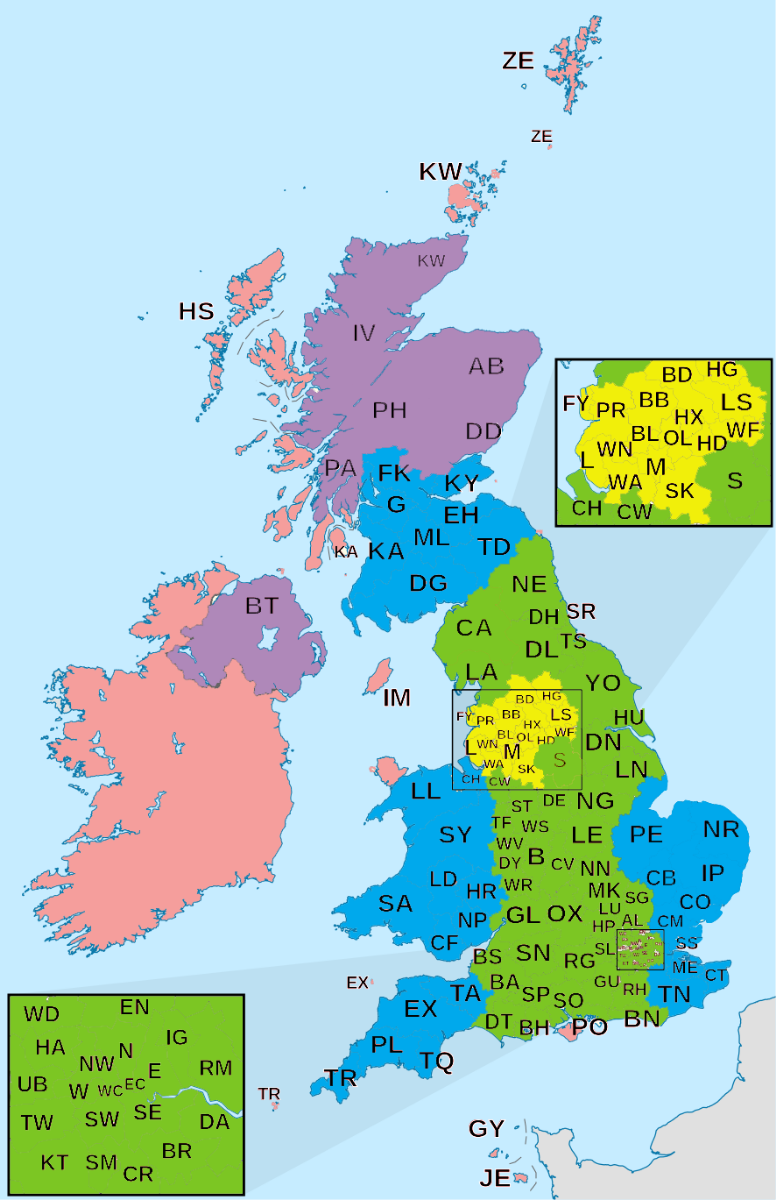 | Area | Parcel | Armchair | Suite |
| --- | --- | --- | --- |
| Yellow | Free | Free | Free |
| Green | Free | £60 | £100 |
| Blue | Free | £100 | £140 |
| Purple | Free | £170 | £200 |
| Pink | Contact Us | Contact Us | Contact Us |
Furniture
If you are located in one of the areas marked as salmon pink on the map please contact us for an accurate delivery price. We can usually arrange deliveries to the highlands, islands and other off-shore locations, but there is an additional charge for delivery to any location that involves a boat or ferry.
Standard Delivery Terms
We will:
Provide paperwork, care instructions and everything you need to set up your new furniture
Keep you updated with the dispatch date
Make sure your new furniture is delivered within 1-4 weeks depending on your location
Arrange for your new furniture to be delivered to the address given when you pay for your order, i.e. either the specified PayPal address or the address your card is registered to if you pay via card
Do everything we can to make sure that your delivery goes smoothly
We ask that you:
Inform us ahead of time of any issues with access into your property, including: roadworks, parking, gates or doorways, and if there are any stairs involved
Measure your doorways and access points carefully to make sure the furniture will fit
Make sure there is someone available on the delivery day who can help the driver unload, or inform us ahead of time if this is not possible so we can arrange for a two person delivery
Ensure there is safe, clear access through to your room of choice on the delivery day, and cover the carpet in newspaper if required
Delivery into your room of choice is offered at the driver's discretion. While it is the buyer's responsibility to ensure there is good access and the furniture will fit, we will do whatever we can to help. If you have any difficulty measuring up, or especially if you think this will be a particularly tight fit, please contact us directly.
Collections
If you have access to a suitable vehicle and would like to collect your order in person please contact us before paying for your order. You might be surprised to hear that many of our customers opt to save money by travelling to collect their purchase, even from as far away as Glasgow and Peterborough! We welcome customer collections any time we're open, and will be happy to help your new furniture loaded up. For security reasons we would ask that you arrange to pay in person on collection - we accept all major cards in store.